CAIRO, EGYPT - Late to a meeting on the other side of Cairo, student Abdel-Kader Shehade opted for the fastest ride-hailing service in town: Careem Scooter.
"It was like the traffic jam didn't exist," said the 19-year-old, whose trip took a fraction of the usual time at half the price of a car.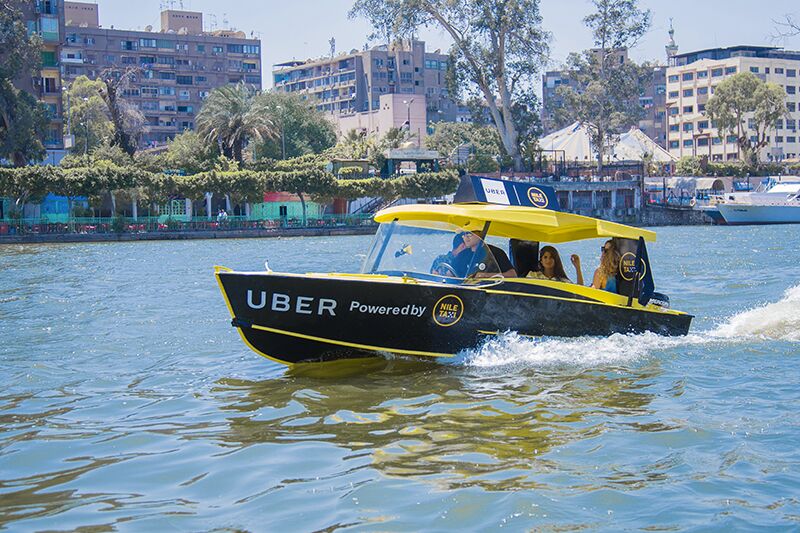 UberBoat in Cairo, Egypt.

Shehade hasn't looked back. Neither have Dubai-based Careem or Uber, which are investing in Egypt's sprawling capital, whose congested roads and inadequate public transport drive demand.
Both are coming up with new means to traverse the city of 20 million, where a 2014 World Bank study found 3.6 percent of Egypt's GDP was being lost as Cairenes wasted hours a day in bumper-to-bumper traffic chaos to the incessant blare of horns and insults.
San Francisco-based Uber has grown rapidly in Egypt since its 2014 arrival.
It ran a commuter boat service for the first time this summer, zipping up the Nile River that dissects Cairo to bypass clogged streets and noxious car fumes.
UberBOAT is a seasonal service, but Uber is in talks with the government to start a bus service and is investing $20 million in a customer service center in Cairo.
"We see all the ingredients heading in the right direction," said Abdellatif Waked, general manager of Uber Egypt. "If you can keep innovating and coming up with different methods to get more people in fewer vehicles and get Cairo and other cities to be less congested, that is definitely a good thing and not just for the ride-sharing industry."
Careem, a Middle East-focused rival, has invested $25 million in Egypt and plans to triple this to $75 million. It expects unconventional transport to outstrip its car service in three to four years from about 10 percent of its business now, said Ramy Kato, managing director of Careem Egypt.
Ride Smart
"Ride-hailing companies constitute two percent of all rides in Egypt," Kato said. "We still have 98 percent to capture through things that resemble mass transportation, customized services or innovative services like scooters."
Careem runs about 2,000 scooter trips daily and Kato says it can barely keep up with demand.
Cairenes have the option of riding along 83 km (52 miles) of metro lines or taking one of the city's 3,030 state-operated buses.
Though they cost a fraction of the price of a cab or Uber, mass transit offerings are limited compared to peer cities, the World Bank says, and buses often creak along with windows missing and commuters uncomfortably packed on in often-searing heat.
President Abdel-Fattah El-Sisi has vowed to improve Egypt's infrastructure after decades of neglect, investing in motorways and extending the metro, though concerns over cleanliness and harassment mean those who can afford it often opt for private transport.
A growing and youthful population, where about 32 million people own a smartphone, means Cairo has emerged as a darling of ride-hailing companies just as their services face growing challenges from traditional taxis and state regulators around the globe.
Cairo taxi drivers have protested too and Egypt's cabinet recently approved a draft law regulating car-sharing services. Its potential impact is not yet clear, but many customers in Cairo prefer the new air-conditioned rides to often-dilapidated local taxis, whose drivers regularly refuse to run their meters leading to fare-disputes.
Fuel subsidy-cuts have made it more expensive for car-owners to drive themselves and soaring inflation over the past year means those who would once have bought a car are turning to ride-hailing instead.
Spotting a gap, engineering graduate Mostafa Kandil and two friends started Swvl this year. It operates privately-owned buses and allows commuters to book fixed-line, fixed-time trips through the app.
The government has signed a deal to add some of its buses to the app and Careem bought a stake in Swvl, which now serves about 100,000 customers, for about $500,000 this year.
"These services thrive in markets where people are left to choose between on-demand transportation or inhumane public transportation," said Kandil.
- BLOOMBERG